Vendor Map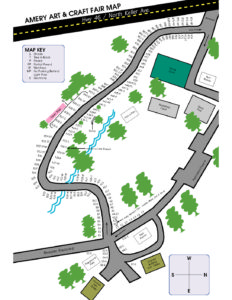 The following is the Amery Art and Craft Fair Vendor map detailing spaces reserved and available for registration.  Please note that those with an X are already reserved.
When you register online, or by paper/mail, please select which exhibit space you wish to reserve to use during the Amery Art and Craft Fair.
We will be updating this page as vendors register, so you will be able to see which exhibit spaces are available.
The earlier you get your application and fee submitted, the better chance of getting your requested spots. Please note that we reserve the right to decide who is in which place.
Please click HERE for larger viewing area as a pdf.
AA1X
A2x
A3x
A4
A5x
A6x
A7x
A8x
A9
A10x
A11x
A12x
A13x
A14
A15
A16
A17
A18
A19
A20
A21
A22
A23
A24x
A25X
A26x
A27x
A28
A29
A30
A31
A32
A33
A34
A35X
A36X
A37
A38
A39
A40
A41
A42
A43
A44
A45
A46
A47X
A48
A49
A50
A51
A52
A53
A54
A55
A56
A57
A58
A59
A60
A61
A62
A63
A64
A65
A66
A67
A68
A69
A70
A71
A72
A73
A74
A75
B1X
B2X
B3X
B4X
B5
B6
B7
B8
B9
B10
B11
B12
B13X
B14
B15
B16
B17
B18
B19
B20
B21
B22
B23
B24
B25
B26
B27
B28
B29
B30
B31
B32X
B33X
B34X
B35
B36
B37
B38
B39
B40
B41
B42
B43X
B44
B45
B46
B47X
B48X
B49
B50
B51
B52
B53
B54
B55X
B56
B57
B58
B59
B60
B61
B62X
B63x
B64
B65
B66
B67
B68
B69
B70
B71
B72
B73
B74
B75
D1X
D2X
D3x
D4x
D5
D6
D7
D8
D9x
D10x
D11x